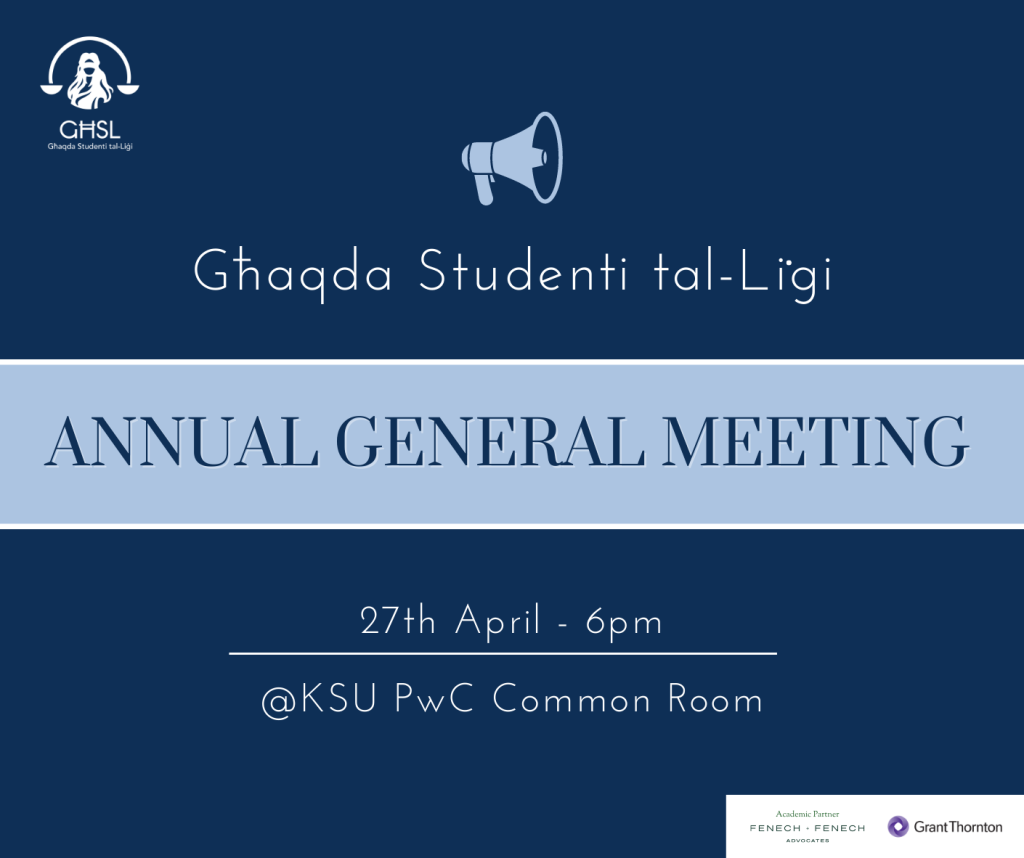 The GħSL Annual General Meeting shall be held on the 27th of April 2023 at 18:00pm, wherein all Executive Board members shall recount their experience as forming part of the team, as well as providing an outline of the events organised by them along the past academic year.
The Agenda for the Annual General Meeting may be accessed by clicking on the following link- https://www.ghsl.org/agm-agenda23/
The Annual General Meeting shall also see the appointment of the new Executive Board and the introduction of fresh new faces to the organisation. Those who are interested in joining the team are encouraged to contact the President on president@ghsl.org to be better guided from there. The nomination form for the Executive Board can be found below. Those wishing to apply are to hand in their nomination form to the Electoral Commission after the Annual General Meeting – https://www.ghsl.org/exec-nomination-form23/
Students wishing to submit any amendments to the statute may download the Statutory Amendment form below, fill it in, and send it to secgen@ghsl.org by Monday, the 25th of April 2023 at noon – https://www.ghsl.org/statute-amendment-form23/
The Annual General Meeting is open even for non-members, who are perhaps interested in forming part of the organisation. Thus, any interested attendees are more than welcome. We'll see you there!
GħSL Statute – https://www.ghsl.org/about/resources/statute-as-amended-13th-april-2022